The 304th Chapter of the Autumn Mists was held on Saturday 12th November  in the splendid setting of the Fontanafredda Estates and saw the presence of authoritative guests
"During the last Chapter we had several guests including the film critic and Director of the Venice International Film Festival, Alberto Barbera, who became our Knight together with the ex footballer Massimo Mauro, the television presenter Caterina Balivo and the food critic Paolo Vizzari, protagonists the following day of the XXIII World Alba White truffle Auction, together with Enzo Iacchetti – said the Grand Master Tomaso Zanoletti."
The 304th Chapter also offered the opportunity to deepen the theme of "Alba White Truffle: a precious brand that Italy must protect" with the intervention of the Director of the National Center for Truffle Studies, Knight Mauro Carbone, and of the journalist de La Stampa, Knight Roberto Fiori, and to welcome numerous foreign guests such as the Knights of the Foreign Delegation of Hong Kong and those of the future Delegations of Budapest, London and Brazil to be established in 2023. In this climate of internationality, the Grand Master also announced the opening of the Dutch Delegation on 6th November and the imminent opening of the Canadian Delegation on 17th November and of the Singapore Delegation on 24th November.
During the Chapter, 24 Investitures took place and the Collar of Honorary Knight was awarded to Hervé Gaboreau and the wine producer Laurent Ponsot, Chevaliers du Tastevin of Burgundy.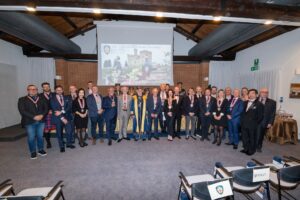 The meeting, which began with the show of Flag-wavers and Musicians of Alba, continued with a suggestive performance by the Vox Viva choir in the Royal Ice House by the lake of the Estate and ended with an aperitif and dinner by Chef Ugo Alciati , of the "Guido Ristorante", where the guests were able to taste the White Truffle of Alba and the wines of the new Selection paired with the dishes.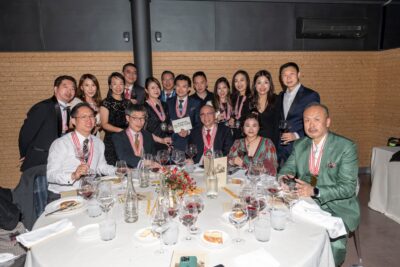 Discover all the photos on our Facebook page
Ph. Credits: