On January 31, the search season for Tuber Magnatum Pico, the White Truffle of Alba, which every year perfumes the tables of our Territory and of all those who have learned to love it and appreciate it all over the world on dishes sometimes even unexpected ended.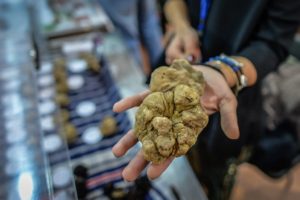 A silent journey that began under the full moon of last September 21st.
A year not the best because the truffle needs water and this year has rained very little in the Langhe – says Cavaliere Mauro Carbone, Director of the National Center for Truffle Studies.
But our Tuber Magnatum Pico nevertheless gave us great emotions starting from the XXII World Alba White Truffle Auction during which has been raised € 457,300 went to charity, up to the achievement of a great milestone on January 16: "Truffle Hunting and extraction in Italy, traditional Knowledge and practice" have entered the UNESCO Intangible Cultural Heritage.
The path taken and the recognition give us a further push to do what Unesco asks us and helps us to do, that is transmission and safeguarding – says Antonio Degiacomi Cavaliere and President of the National Center for Truffle Studies – The real protagonists are the seekers, holders and practitioners of this tradition which is the search and quarrying of the Truffle. […] The transmission of this knowledge to the new generations is also fundamental, something that is already happening ".
And in this long process of safeguarding and transmission, we cannot fail to remember and thank those 21 Founding Members of the Order of the Knights of the Truffle and Wines of Alba who on 27 February 1967 gave themselves a Statute that had and still has today as central purpose to protect or revive local folk customs and traditions, to qualify the food and wine of Langhe Monferrato and Roero Area, to actively promote the gastronomy and typical wines of Alba both in Italy and abroad. First of all the Founder Luciano Degiacomi and the Cavaliere Giacomo Oddero who in 2012 first proposed the UNESCO candidacy.
Read the article on UNESCO website
Find out here how to live the Truffle Search experience with our Trifulao.