The Knights of the Truffle and Wines of Alba gathered on Sunday October 10th for the 296th Chapter of the Harvest in the Hall of Masks in Grinzane Cavour Castle.
Greeted by the Diano d'Alba Musical Ensemble – School of Music Band and Folklore Group to the sound of Salieri's Imperial Fanfare, the Ruling Council was welcomed to the hall by the attendees and a large group of Knights of the Napa and San Francisco Bay Area Delegation, to which the Chapter is dedicated.
While the 295th Chapter of the Selection was an opportunity to present the new uniforms of the Masters on the Council, with its live music and wine presented in a precious decanter the 296th Chapter of the Harvest revealed further indications for a 2022 which is set to be full of changes and new features for an Order with an increasingly international focus.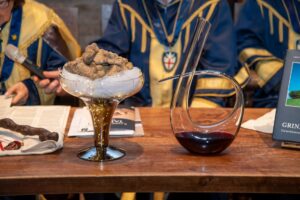 Coinciding with the opening of the 91st International Alba White Truffle Fair and Market, the Chapter which celebrates the grape-picking season and the first harvesting of the prized Tuber Magnatum Pico saw the presentation of "The Truffle Sensory Code" by the book's authors Antonio Degiacomi, Isabella Gianicolo and – in connection from Turin – Luigi Odello.
"The book – says Antonio Degiacomi – sets out to create a common language for the Truffle that is understandable for one and all, as has been done for wine. It also covers anthropological and historical aspects, and is designed to serve as a frame of reference for the whole supply chain and all those operating in the sector, as well as for enthusiasts and schools in Italy and abroad" (ed. an English version is already available).
"The White Truffle wants to be found – says Isabella Gianicolo – and releases its spores to attract the dog, which spends hours out on moonlit nights with its nose just a few centimetres from the ground set on sniffing out every single molecule so the truffle can be brought to light and then onto our table."
After enjoying a taste of Barolo, the 3 new Knights enthroned during the Chapter breathed in the unmistakeable, inebriating aroma of the Truffle, which they were then able to taste at lunch on the first course of the menu specially prepared for the occasion by the Chef of the Castle's Restaurant, Marc Lanteri.
Check out all the photos on our Facebook page
Ph. Credits: Maurizio Milanesio Photography