ON THE VINEYARDS AND WINES OF ALBA
Renato Ratti – ediz. 1971 – Out of print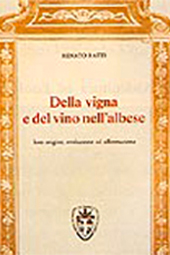 This was the first book published by the Order to be authored by one of its founding masters. "On the vineyards and wines of Alba" is a broad historic take on Piedmontese winemaking, with particular reference to Alba. For anyone setting out to study winegrowing in the Langhe it is an irreplaceable starting point. It may be Ratti's finest work, bearing witness to his love for the vineyard in a sort of "creed" for which he forewent the chance for a brilliant career abroad. Others who followed agreed with his sentiments, and turned this skilled winemaker into a great promoter of the wines of Alba as well.
To buy: